A completely redesigned Control Center is one of the hallmarks of iOS 11. Having ditched card-based layout spanning multiple pages, Control Center has adopted a single-page design. Control Center on iOS 11 is realized as a full-screen scrollable overlay, a design that has allowed Apple to put many more useful controls at your fingertips than ever before.
It is highly customizable, too: you get to choose what appears in your Control Center!
For instance, you could opt for a pedestrian Control Center with a handful of the most commonly used shortcuts, like on iOS 10, or create a fully loaded Control Center that may contain as many as 18 additional toggles. Apple currently does not provide Control Center APIs, meaning third-party apps cannot ship their own Control Center toggles, for now.
iOS 11 Control Center highlights:
Control Center is more condensed
You no longer have to swipe your way through multiple cards
Everything is on a single, vertically scrollable page
iOS 11 has eighteen additional toggles for Control Center
You decide which toggles appear in your Control Center
Like before, Control Center is invoked by swiping up from the bottom of the screen.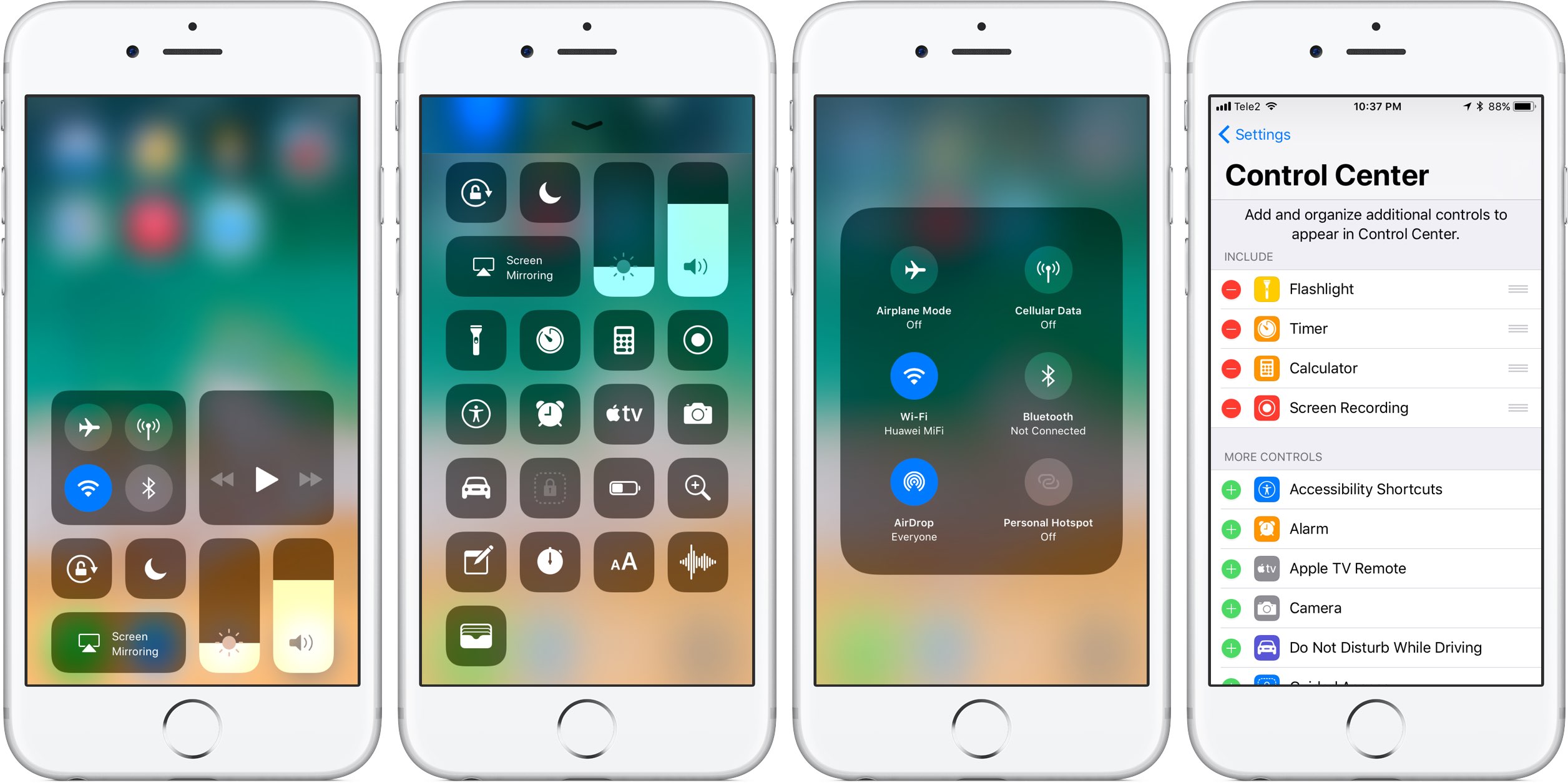 As you can see for yourself, Control Center on iOS 11 is more condensed than before.
The refreshed design allows you to quickly toggle various settings on a single screen, no swiping between pages required whatsoever.
Additional toggles for Control Center can be added and re-ordered in Settings.
The entire Control Center can be scrolled vertically to reveal any controls that may not fit on a single page. To dismiss Control Center, swipe down or press the Home button.

To stop Control Center from appearing on your Lock screen for security reasons, slide the Control Center switch in Settings → Touch ID & Passcode to the OFF position. All in all, iOS 11's Control Center is completely different than it was before—and it's a change for the better.
To help you get quickly up to speed with everything Control Center on iOS 11 has to offer, we asked our prolific video editor Andrew O'Hara to put together a quick video walkthrough.
Watch his clip below, then read the rest of the article for additional information on other new features for Control Center on iOS 11.
Article was initially posted on IDB by Christian Ziberg