Since 1999 October 3rd is recognized as National Techies Day. Make sure to thank your IT guy, web developer or favorite software engineer 😉 I am sure they appreciate sweets and anything that includes caffeine! Here are a few notable days in tech history to honor this day.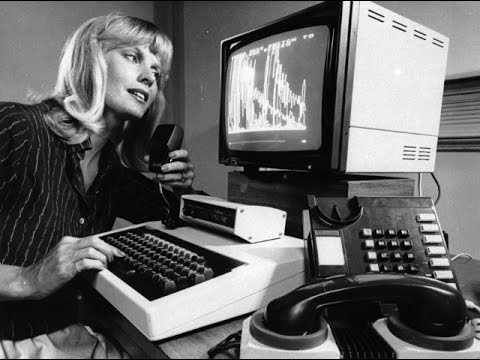 Transistor Patented
October 3, 1950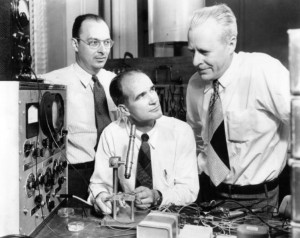 AT&T Bell Laboratories researchers John Bardeen, Walter Brattain, and William Shockley receive a US Patent for their invention of the transistor, which they had successfully demonstrated two years earlier. The transistor completely revolutionized the development of electronic and computerized technology.
ENIAC Retired
October 2, 1955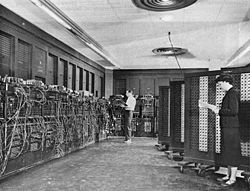 Considered the world's first fully electronic computer, after eleven years of continuous service the ENIAC computer was retired from service.
The First CD Player
October 1, 1982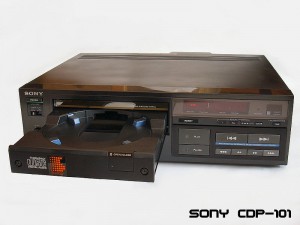 The first commercial compact disc player, the Sony CDP-101, goes on sale in Japan.
Ethernet is Drafted
September 30, 1980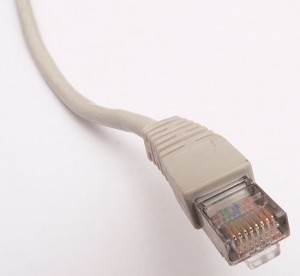 Digital, Intel, and Xerox release version 1.0 of the Ethernet specification, known as the Blue Book. Since that time, Ethernet has evolved into the de facto networking standard for local area networks (LAN) in businesses and in the home.
Microsoft Word 1.0 for DOS
September 29, 1983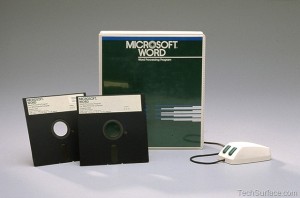 Microsoft releases their first software application, Microsoft Word 1.0. For use with MS-DOS compatible systems, Word was the first word processing software to make extensive use of a computer mouse. Not coincidentally, Microsoft had released a computer mouse for IBM-compatible PCs earlier in the year. A demo version was also included for free with a copy of PC World magazine, marking the first time a floppy disk was included with a magazine.
Apple Asks Us to Think Different
September 28, 1997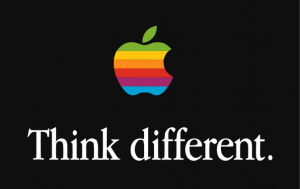 Just a little over two weeks after naming Steve Jobs interim CEO, Apple launches their "Think Different" ad campaign. Designed to reintroduce the Apple brand, the campaign was nearly universally praised by the press, general public, and advertising industry, winning several awards along the way. Looking back in context, Think Different was the symbolic start of Apple's resurgence from near-collapse in the 1990's into the most valuable company in the world.
The campaign was anchored on the now-famous prose commonly called, "Crazy Ones", which was narrated by Richard Dreyfus in the commercial most people are familiar with. It is commonly thought that Steve Jobs wrote Crazy Ones, but in fact it was written by Rob Siltanen and Ken Segall who worked at Apple's advertising agency, TBWA/Chiat/Day. Read more about the history of the Think Different campaign.
Google's Fake Birthday
September 27th, 1998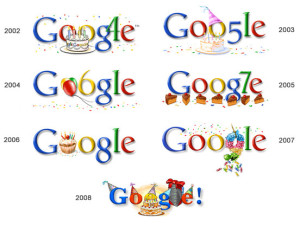 For some peculiar reason, Google has at times chosen the date of September 27th as their birthday, even though it is more officially September 4th or 7th. Google has no explanation for celebrating their birthday on different days over the years other than to say:
Google opened its doors in September 1998. The exact date when we celebrate our birthday has moved around over the years, depending on when people feel like having cake.
Richard Stallman Announces the GNU Project
September 27, 1983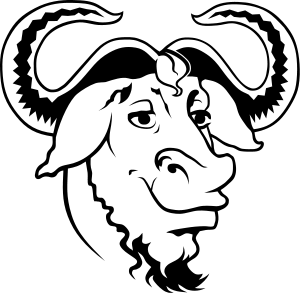 Promising a "Free Unix", Richard Stallmanannounces that he is going to write a complete Unix-compatible software system he calls GNU(which stands for Gnu's Not Unix). This is a significant milestone in the history of open source and free software. Stallman would later found the Free Software Foundation.
Concorde Breaks Atlantic Crossing Speed Record
September 26, 1973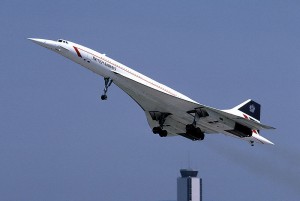 The supersonic aircraft Concorde makes its first non-stop Atlantic crossing and sets a new speed record in the process. Flying from Washington D.C. to Paris, France in 3 hours 32 minutes at an average speed of 954 miles-per-hour, the Concorde cut the old speed record in half.
The First Personal Computer You Never Heard Of
September 25, 1973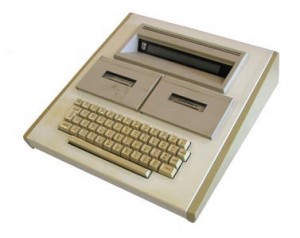 Micro Computer Machines of Canada introduces their MCM/70 microcomputer at a programmer's user conference in Toronto. Possibly the earliest commercially manufactured device that can now be considered a personal computer, the MCM/70 gained customers at companies such as Chevron, Mutual Life Insurance, NASA, and the US Army. The company worked closely with Intel on the design of their computer and made very early use of the Intel 8008 processor, of which the basic design was used for the future Intel 8086. However, failing to generate venture capital in the Canadian marketplace, the MCM/70 never gained significant market acceptance and by the time the Apple II and other early personal computers were being released, the MCM/70 was relegated to a footnote in history.
Hartman Technology is Born
February 27, 2001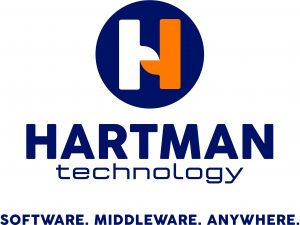 After 3 years of freelancing website development projects, Troy Hartman formally founded Hartman Technology Solutions, Inc in 2001 in Sioux Falls, SD. Today, Hartman Technology has grown to partner with hundreds of businesses, nonprofit groups, international Fortune 500 companies, governmental agencies, and educational institutions.
As one of the most experienced web development firms in the region, our team has decades of experience in developing websites, programming custom software and implementing middleware. We have the depth of knowledge to program current software applications and the experience to support legacy systems, such as AS400 or HP-UX. All our efforts are focused on helping your business succeed using technology as a tool to become more efficient and reduce costs.
Hartman Technology believes in personal attention commitment  to total client satisfaction while delivering experience and quality within any budget.
-Tyler @ Hartman Technology